Winter Conference 2016
The 2016 ITLUS Winter Conference took place on December the 8th in the Clanard Court Hotel inn Athy Co. Kildare with a large attendance present.
Our first speakers told the audience about their experiences in America, first Tim O'Donovan reported on the ITLUS study tour there then Denis Dunne spoke on his time as an intern on a large tillage farm in Missouri
Tim told us about the study tour which started in Chicago with visits to various agri-business in the city then on a long bus tour through the Dakotas, Nebraska, Iowa, Missouri and Illinois and back to Chicago, en route they saw the effect fracking was having on rural areas, coal mining and gasification, large ethanol plants, many fine farms, some dairies and also research establishments where much work had been done and was continuing on preserving and improving the area's soils using crop rotations and improved establishment practices.
One of the highlights of the tour was the visit to Graham Missouri where the group met and stayed with local farmers, this is where the ITLUS intern Dennis Dunne was working on the Rosenbohm farm
Tim's presentation is here
Dennis Dunne was chosen as the first ITLUS/Rosenbohm intern, unfortunately complications with Dennis's visa meant he couldn't travel to the US as early as planned but he did get to go in time for the preparations for harvest and the full corn and bean harvests. Dennis stayed and worked with the Rosenbohm family and worked in various aspects of their business, gaining a lot of experience in his time there.
Dennis's presentation is here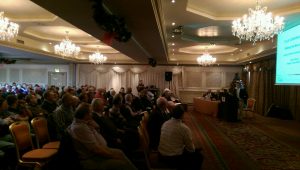 Our next session dealt with the challenges facing the tillage sector, first Stephen Collins, a tillage farmer from Cork gave a presentation, then a panel of guests, moderated by Andy Doyle from the Irish Farmers Journal discussed the issues raised by Stephen with the audience present.
The panel was,
Bill Callanan, Chief Inspector, DAFM
Jimmy Brett, MD, Brett Bros, Callan, Co. Kilkenny
Phelim Dolan, Grain Trader, Comex
Stephen's presentation is here
After our AGM and lunch, the afternoon session of our conference continued with a session entitled "Getting the basics right"
Our first speaker was Shay Phelan from Teagasc who spoke on "Lessons from advisory services"
Shay's presentation is here
Next, Dick Fitzgerald, our serving ITLUS secretary spoke about his experiences in the 10 years after beet. Before the beet industry closed down in Ireland, Dick would have had one third of his tillage area in beet and this crop would have produced well over half of his farm income. Since then Dicks rotation has changed with more cereals and some break crops however no replacement for beet has appeared. Dick also spoke about the need to protect and grow the markets for premium Irish food products and that these should be produced using Irish raw materials to the maximum extent.
Our last speaker was Mervin McCann, a local farmer from the Athy area, Mervin spoke about his business and how it was concentrating on getting the basics of crop production right and als on trying to maximise his returns from crop marketing.
Mervyn's presentation is here