Our winter conference and Annual General Meeting will be held on Thursday 7th December 2017 in the Clanard Court Hotel in Athy, Co Kildare.
The theme of this year's conference is "Non-metal tools of tillage farming"
What was once a decision taken by a largely unknown EU committee, pesticide registrations are currently mainstream news items. They are also hotly debated on social media where views can be misleading and unbalanced depending on what website, chat room or hashtag you stumble upon. While scientific debate and publications are not beyond reproach they are, most likely, the most effective means of deciding on a product's safety. But science takes effort to understand whereas catchy half-truths don't and it seems that the latter are winning the public's and, more worryingly, our elected legislator's minds.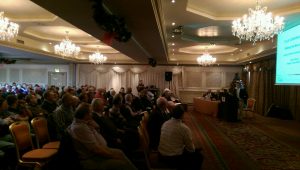 Against this background, ITLUS has assembled an excellent panel of speakers to address the whole area of pesticides and associated technologies.
Firstly, well known tillage farmer, Gerald Potterton will give us his opinion on the current state of tillage farming, where he sees it going and the influence pesticides have had on the industry. Then Gordon Rennick, PCRD will outline the current pesticide regulatory environment and the near future changes to the spray armoury.
Accepting that the rate of new pesticide introductions is declining, Michael Gaffney, Teagasc and Tom Mcloughlin, formerly EPA will outline the possibilities that biological control options and new plant breeding techniques will offer the tillage industry.
After lunch, we present three papers from John O' Loughlin, Darragh Cleary and Louise McNamara on how farmers and science are approaching disease, weed and pest problems on farms with less spray options available to them. Lastly, Damien Mc Donald, IFA will give his views and the IFA's vision for the tillage industry.
The programme for the day is as follows:
"Non-metal tools of tillage farming"
10.00 10.30 Presidents address
10.30-11.00 Gerald Potterton, tillage farmer, Farmers Journal columnist
State of tillage industry in Ireland – past, present and future
11.00-11.30 Gordon Rennick, Pesticide Control & Registration Division, DAFM
Chemical registrations update and the regulatory environment of the future.
11.30-12.00 Dr Michael Gaffney, Teagasc
Biological plant protection products and what they offer the tillage farmer
12.00-12.30 Tom Mcloughlin, formerly a GMO expert with the EPA
New breeding tools and how they are likely to impact on tillage farming
12.30-1.00 Discussion
1.00-2.30 Lunch
2.00-3.45 The shrinking chemical toolbox – John O' Loughlin, tillage farmer, Kildare
Moving from continuous cereals to a rotation – Darragh Cleary, tillage farmer, Kildare
BYDV update – Dr Louise McNamara, Teagasc, Oak Park
3.45-4.30 Damien Mc Donald, Secretary General, IFA
IFA views and position on the tillage sector
4.30 ITLUS AGM
Tea & coffee